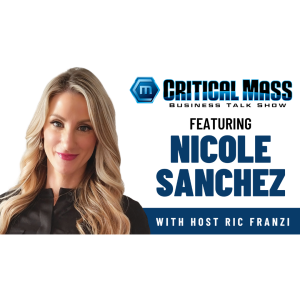 Wednesday Nov 09, 2022
Critical Mass Business Talk Show: Ric Franzi Interviews Nicole Sanchez, Founder of The Bella Foundation (Episode 1403)
In 2019, Nicole Sanchez launched a non-profit called The Bella Foundation, named after her 7-year-old daughter Isabella, that helps raise awareness and resources for domestic violence victims. As a young child, Nicole experienced domestic violence firsthand, and believes that one of the most valuable lessons we can teach our own children is to lead by example by helping others.
Nicole's mission is to help women affected by domestic violence get back on their feet, and back in the workforce by providing professional clothing, financial assistance for childcare, and even job placement so they can provide for their children and start a new chapter filled with hope and a future. The driving force behind Nicole's passion for this cause is her daughter Isabella, hence "The Bella."
In Nicole's words: "I am proud to stand as a role model for my daughter to break the vicious cycle of domestic violence."
--
Critical Mass Business Talk Show is Orange County, CA's longest-running business talk show, focused on offering value and insight to middle-market business leaders in the OC and beyond. Hosted by Ric Franzi, business partner at Renaissance Executive Forums Orange County. Learn more about Ric at www.ricfranzi.com.
Catch up on past Critical Mass Business Talk Show interviews...
YouTube: https://lnkd.in/gHKT2gmF
LinkedIn: https://lnkd.in/g2PzRhjQ
Podbean: https://lnkd.in/eWpNVRi
Apple Podcasts: https://lnkd.in/gRd_863w
Spotify: https://lnkd.in/gruexU6m
#orangecountyca #mastermind #ceopeergroups #peergroups #peerlearning