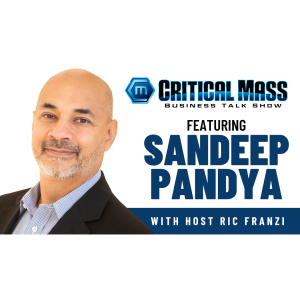 Friday Jun 23, 2023
Critical Mass Business Talk Show: Ric Franzi Interviews Sandeep Pandya, CEO of Everguard.ai (Episode 1437)
Sandeep Pandya is CEO of Everguard.ai, and is leading the way in the incorporation of wearables with computer vision, machine learning, and AI to make the world's industrial environments safer and more sustainable.
Formed in 2020, Everguard.ai stemmed from Pandya's belief that the world is experiencing a technological renaissance, and that the nexus of AI, digital connectivity, and information sharing will fundamentally reshape and improve the way people and their communities sustain each other.
Pandya is a technology veteran whose experience spans product introductions and innovations in semiconductors, connected devices, wireless infrastructure, cloud services, and novel AI/CV applications. His leadership has helped organizations of all sizes establish high-growth markets globally.
Sandeep is a recognized thought leader and member of the Forbes Technology Council.
--
Critical Mass Business Talk Show is Orange County, CA's longest-running business talk show, focused on offering value and insight to middle-market business leaders in the OC and beyond. Hosted by Ric Franzi, business partner at Renaissance Executive Forums Orange County. Learn more about Ric at www.ricfranzi.com.
Catch up on past Critical Mass Business Talk Show interviews...
YouTube: https://lnkd.in/gHKT2gmF
LinkedIn: https://lnkd.in/g2PzRhjQ
Podbean: https://lnkd.in/eWpNVRi
Apple Podcasts: https://lnkd.in/gRd_863w
Spotify: https://lnkd.in/gruexU6m
#orangecountyca #mastermind #ceopeergroups #peergroups #peerlearning