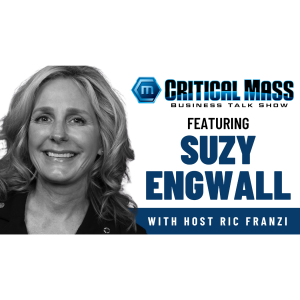 Sunday Sep 03, 2023
Critical Mass Business Talk Show: Ric Franzi Interviews Suzy Engwall, President & CEO of HealthTech Strategies, LLC (Episode 1447)
Suzy Engwall is the CEO and President of HealthTech Strategies, LLC as well as the VP of Early Medtech Development at Alira Health. She is a healthcare innovation leader, speaker, startup advisor and mentor who has been working to make change in healthcare for over 17 years spending the last 7 in the healthcare innovation space.
In her current roles, Suzy works with early-stage startups to help them navigate the challenging landscape of bringing a product to market in the highly regulated healthcare space. Independently, she consults with healthcare organizations to set up their corporate innovation programs and assist them in the commercialization of new product. She also serves as a leader for the Founder Institute HealthTech chapter, a pre-seed accelerator, and is a long-time board member for GameChanger Charity – a 501c3 that helps deliver joy and distraction therapy to hospitalized children.
Suzy is a graduate of Arizona State University, where she earned a Bachelor of Science degree in Health Entrepreneurship and Innovation from the Edson School of Nursing and Health Innovation where she is also an Alumni Board Member.
--
Critical Mass Business Talk Show is Orange County, CA's longest-running business talk show, focused on offering value and insight to middle-market business leaders in the OC and beyond. Hosted by Ric Franzi, business partner at Renaissance Executive Forums Orange County. Learn more about Ric at www.ricfranzi.com.
Catch up on past Critical Mass Business Talk Show interviews...
YouTube: https://lnkd.in/gHKT2gmF
LinkedIn: https://lnkd.in/g2PzRhjQ
Podbean: https://lnkd.in/eWpNVRi
Apple Podcasts: https://lnkd.in/gRd_863w
Spotify: https://lnkd.in/gruexU6m
#orangecountyca #mastermind #ceopeergroups #peergroups #peerlearning